By Kuldip K. Ambastha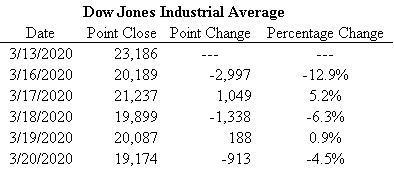 This past week was a volatile one in the investment markets, worldwide. "May you live in interesting times" was a quote popularized during the global financial crisis (GFC) era. This same quote applies now as well, in terms of the wild roller coaster ride seen for March 16-20. On a daily basis, fluctuations were seen across all indices globally. The Dow Jones Industrial Average (DJIA) saw both losses and gains day-by-day during this week, per the table seen above. On Monday, March 16, 2020, the DJIA fell by 2,997 points, which is the biggest daily point decline ever. On the same day, the DJIA fell by 12.9%, which is the highest daily percentage decline since October 1987's "Black Monday" crash. For the week, DJIA dropped by 17.3% which is the largest weekly percentage drop of DJIA since October 2008 during the global financial crisis.
Similarly, in the week before, West Texas Intermediate (WTI) crude oil ended the day of Friday, March 13, 2020 at $31.73 per barrel. WTI crude oil's price dropped dramatically to $20.55/bbl for the day ending Wednesday, March 18, 2020. WTI crude oil prices were also quite volatile ending at $25.63/bbl and $22.59/bbl on March 19 and 20, 2020, respectively. The crude oil price has not been this low since 2002. This has been caused by not only severe curtailment of oil demand owing to the overall slowing world economy even before the coronavirus pandemic plus the coronavirus-related lockdown of countries and cities across the world, but also the oil oversupply issue because of market share battles between Russia and Saudi Arabia since the collapse in dialogue of an OPEC+ meeting a few weeks ago.
What drove these fluctuations? Negative coronavirus-related news has affected every human being and every investment market. No vaccine currently exists for the coronavirus, and developing one may take anywhere from 12 to 18 months per what medical experts are saying. Governments and central banks everywhere are developing interventionist emergency response plans to deal with the volatility. Until the coronavirus-linked uncertainty is gone, markets will keep reacting to daily news reports. The losses seen this week in the DJIA have eliminated all gains since when President Donald J. Trump was inaugurated. Wall Street investment banks are foreseeing a significant recession coming soon. From the perspective of psychology, one could hypothesize that the investment markets will only recover when governments and central banks worldwide manage the coronavirus crisis successfully. How long this will take is unknown.
Disclaimer – No recommendations are being made via this post. Past performance is not an indicator of future performance. As an investor, you should do your own research and seek professional advice from a Registered Investment Adviser (RIA). You can lose money by investing in stocks and other instruments. Ambastha Financial LLC does not assume any responsibility (legal or otherwise) for any losses that may occur as a result of actions taken based on this post. All content copyrighted © 2020 – Ambastha Financial LLC.